General Nonfiction Books
Jack Jordan Ammann Jr. was smart, funny, opinionated, assertive, upbeat, generous, tenacious, independent, determined, self-confident, perfectionistic, and unconventional. He enjoyed three careers during his lifetime: industrial engineer, peace officer, and school bus driver. His interests were many—amateur radio, guns, cars, and collecting (watches, flashlights, key chains, you name it.)
After Jack's death, friends shared their favorite "Jack stories," funny and serious, short and long. Jack touched many lives with his generosity, strong personality, loyalty, kindness, and humor. Enjoy favorite memories of a special man.
Books for Writers and on Writing
Shaunna Privratsky is a mind-reader. "Pump Up Your Prose" is a wonderful companion and therapist when you're feeling alone in the writing world; it's an affirmation of why we write. This delicious book details not just how to write, but how to be a writer.
~Jenna Glatzer, Editor-in-chief Absolute Write and author of MAKE A REAL LIVING AS A FREELANCE WRITER
"This is not a book on how to write. It is a book on how to get it written. It is full of the shortcuts, experiences and tips only an insider could know. Whether you are working on an eBook or a pBook, you will find Judy Cullins' wisdom invaluable."
Dan Poynter, author of The Self Publishing Manual and Writing Non-Fiction
"Whoever said 'Fifty percent of writing is getting the first word on a blank piece of paper' should have had Judy Cullins' book! It's inspiring and practical, an unbeatable combination. Write Your eBook or Other Short Book Fast! offers checklists, tips,
tricks and the encouragement you need to get your book out of your head and onto the shelves. If you've ever thought of writing a book or even written one but want to improve the process, get this book."
Mary Westheimer, CEO, BookZone.com
"Save yourself from headaches, disappointments, and money down the drain. Read Write Your eBook or Other Short Book-Fast! before you write another word. Judy puts you on the fastest track to publishing success."
Marcia Reynolds, M.A., M.Ed.
Past president of the International Coach Federation
Author of How to Outsmart Your Brain
http://www.covisioner.com
FACT: Businesses Need Writers, and Will Pay Handsomely For Them... Attention: Aspiring writers, career-changers, at-home Moms, journalists, staff writers, recent college grads, 55+ or anyone else who loves to write, knows they're good at it, and wants to make a GOOD living at it. Here's your roadmap to hourly rates of $50-125+ and a writing lifestyle most can only dream of in the lucrative field of commercial freelancing - writing for companies and creative entities. What sort of writing? Marketing brochures, ad copy, newsletters, direct mail campaigns, web content, sales sheets, case studies, white papers, trade articles and dozens of other project types. In short, any writing project a business would have to execute in the normal operation of their business. This is the updated compilation of the TWO Well-Fed Writer standards you've heard about forever! Why Commercial Freelancing? Writing drives business. In the course of communicating with its customers and employees, an average corporation generates an enormous volume of writing. Yet, in today s downsized business world, the catchword is outsourcing. Many companies are asking: Why pay salaries and benefits when freelancers offering a range of talent and fresh outsider perspectives give us only what we need, and only when we need it? In TWFW, you ll learn what those writing projects are, where they are, how to land them, and how to get hired again and again (even with less-than-brilliant writing ability...). Have an unusual niche? Live in a small town? Need to start part-time? Terrified of sales and marketing? It's all here. Follow this step-by-step blueprint for leveraging your background into a profitable writing practice that moves light years beyond starving writing. The Well-Fed Writer - 2010 Awards: Winner (First Place): Next Generation INDIE Book Awards (Writing/Publishing) Winner (Silver Medal): Axiom Business Book Awards (Reference/How-To) Winner (Silver Medal): IPPY (Independent Publisher) Awards (Writing/Publishing) Winner (Silver Medal): Foreword Magazine Book of the Year Awards (Writing)
Read endorsements for this award-winning book here:
THE FRUGAL BOOK PROMOTER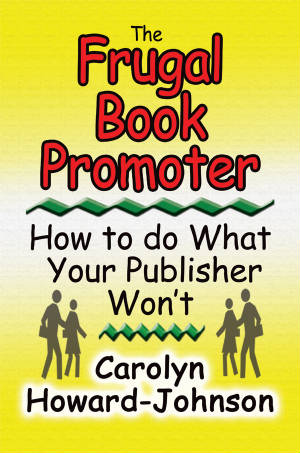 By Carolyn Howard-Johnson
The Frugal Book Promoter:
How to Do What Your Publisher Won't
ISBN: 193299310X Star Publish
For only a few cents a day THE FRUGAL BOOK PROMOTER assures your book the best possible start in life. Full of nitty gritty how-tos for getting nearly-free publicity, Carolyn Howard-Johnson, an instructor for UCLA's Writers' Program, shares her professional experience as well as practical tips gleaned from the successes of her own book campaigns. She tells authors how to do what their publishers can't or won't and why authors can often do their own promotion better than a PR professional.
A recommendation from BarnesandNoble.com: Feather Schwartz Foster, an author, September 9, 2004,
Packed With Wonderful Information!
For anyone who has written a book of any kind - this is a must-have, and must-keep guide! Every chapter is filled with insights and how-tos and a whole bunch of where to finds!
Fiction
Praise for The Pacific Between:
A notable new novel.
— ForeWord Magazine

The ups, downs, twists and turns of a two-minute roller-coaster ride are
nothing compared to the gamut of emotions Wong's characters experience in
his compelling novel … It leaves you laughing one minute and crying the
next, and in between, awestruck by dead-ends that lead to a satisfying
finish.
— Joanne D. Kiggins, Cleveland.com (the Plain Dealer)

The reader is rewarded with an incredible rush … With its dynamic plot,
complex characters and slow revelation of the true nature of the web of
intimacies among the main characters, the book is a satisfying and memorable
read.
— Amy Brozio-Andrews, January Magazine
Born and raised in Hong Kong, Raymond K. Wong is a professional actor and
has worked with Julianne Moore, Peter Falk, Sarah Jessica Parker, and Rob Marshall in feature films and in TV and stage productions such as Roommates and Sex and the City. He studied creative writing at UCLA and edited at Scholastic in New York. He is a movie critic at Actors Ink and has been published in the Pittsburgh Post Gazette, the Asian-American Writers Anthology, and Writers Post Journal. His essay, "The Truths about Rains and Floods," was included in the anthology Stories of Strength (Lulu Press, $15.95, 1-4116-5503-6) that benefits disaster relief charities and features over 100 other authors such as Orson Scott Card, Wil Wheaton and Robin Lee Hatcher. His website is www.raymondwong.com.
Emma Larkin was at her wits end.
Her murdered husband would be the death of her – literally. If she didn't find out what 'they' were looking for, and soon, things could get serious.
Gary Bedford was an off-duty undercover cop looking forward to a relaxing break. Think again, Bedford!

Here are some reviews:
Johnna - Novel Spot http://earthchildseries.com/NovelBlog/

Rating: 4 Quills
It was nice to see a man fall in love with a woman and her child, not just take the child because she was part of the package. The love scenes in this tale are tender, passionate, and meaningful. Young Sally is a delight, stealing each scene she is in. My favorite part of the story would be not the main characters themselves but Gary's huge family. Colorful and funny, loyal and protective of their own, this is the family anyone would love to call their own. This is the way romantic suspense should be done!
~ ~ ~ ~ ~ ~ ~ ~ ~ ~ ~ ~ ~ ~ ~ ~ ~ ~ ~ ~ ~ ~ ~ ~ ~ ~ ~ ~ ~ ~ ~ ~ ~ ~ ~ ~
Michelle - Fallen Angel Reviews http://www.fallenangelreviews.com/

Rating: 4 Angels
Saving Emma is a well-written, humorous, story about trust and starting over again. I enjoyed the fast-paced dialogue and the funny quirks of many of the characters.

~ ~ ~ ~ ~ ~ ~ ~ ~ ~ ~ ~ ~ ~ ~ ~ ~ ~ ~ ~ ~ ~ ~ ~ ~ ~ ~ ~ ~ ~ ~ ~ ~ ~ ~ ~
Pam Slade – Love Romances http://www.loveromances.com
Rating:
Fans of warm characters and feisty women and suspense, will love this heart-warming story. With a mix of humor, tender love and an interesting plot this reviewer hopes you'll enjoy Emma and Sally's journey to happiness as much as she did.
~ ~ ~ ~ ~ ~ ~ ~ ~ ~ ~ ~ ~ ~ ~ ~ ~ ~ ~ ~ ~ ~ ~ ~ ~ ~ ~ ~ ~ ~ ~ ~ ~ ~ ~ ~

Rating: Excellent!
"Saving Emma" has all of the qualities it takes to touch each of your senses. It was bittersweet as I finally read the last paragraph; truly, I am going to miss all of the new friends I made on my journey through helping to save Emma.
About the author: Cheryl Wright is an award-winning Australian author and freelance journalist. In addition to an array of other projects, she writes a monthly column for a subscription website, and is the author of "Think Outside the Square: Writing Publishable (Short) Stories" and "I Wanna Win! – Tips for Becoming an Award Winning Writer". Her debut novel "Saving Emma" was released January 2005 by Whiskey Creek Press. Visit Cheryl's website
www.cheryl-wright.com
This Is The Place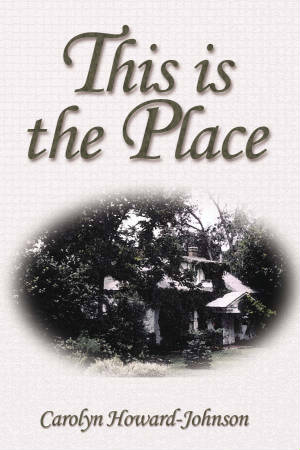 By Carolyn Howard-Johnson
This is the Place
ISBN: 1588513521 AmErica House
"When you live amidst beauty sometimes you don't recognize discrimination
and, if you do, you prefer not to acknowledge it."
A young journalist realizes that because she is half Mormon and half Protestant she is not suitable material for love. She delves into her Mormon heritage and journals her way through prejudice into redemption. She learns to mend her own life when she finds she cannot mend her world. This novel, set in Salt Lake City in the 50s, reveals not only complexities of the heart but the secrets of what some consider a mysterious place and culture. http://carolynhowardjohnson.com
HARKENING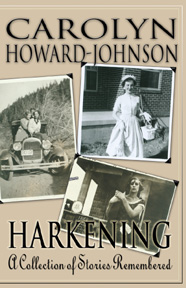 By Carolyn Howard-Johnson
Harkening:
A Collection of Stories Remembered
ISBN: 1591295505 AmErica House
Harkening explores the little white lies and solemn truths that one charming, idiosyncratic family loves to repeat. Each story is stitched to the next to become a saga of their sojourn from Michigan through a vanishing railroad town in New Mexico, then into Utah and finally (and happily), to a place where individuality can thrive. http://carolynhowardjohnson.com
Poetry
Corridors At Dusk is collection of melancholy and gothic poems that weave themselves in between the darkness and the light. In this passageway of words, we will all see ourselves in that dimply lit gallery of life as the specter of change looms over the horizon. This volume is both a companion for those on the journey of transformation and a reminder to us all that nothing in life ever stays the same! Sooner or later, we will all find ourselves wondering the corridors at dusk; but what lies beyond their murky hallways depends upon our own strength and determination.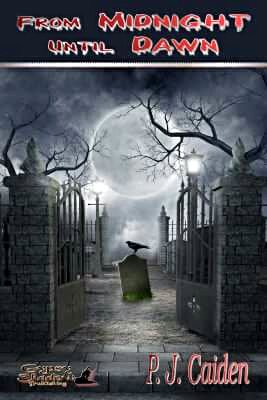 Light a candle and step into the world of strange. From Midnight Until Dawn is a collection of dark Gothic and horror poems guaranteed to trouble your sleep. Each poem is a journey that will lead the reader into the realms of the bizarre and the surreal. This collection of poems was inspired by the great works of; Edgar Allen Poe, Dante's Inferno, Robert Frost, George A. Romero, Stephen King and many of the great horror movies of old. These 116 poems carry with them the feeling and flavor of the vintage classics. But also delivers the punch that the modern reader demands. Any fan of goth and horror should add this troubling volume to their library. From midnight until dawn, the darkness belongs to the dead…
Tracings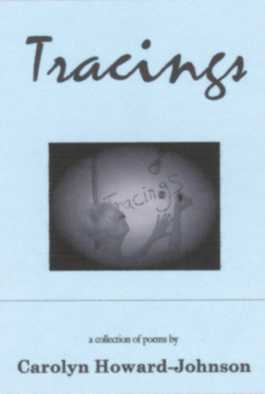 By Carolyn Howard-Johnson
Tracings
A Chapbook of Poetry
ISBN: 1-59924-017-3 Finishing Line Press
Tracings touches chords--both major and minor--for readers interested in nostalgia, tolerance, culture and aging. The author traces her life's experiences and for her it feels like "a movie reel running backwards." http://carolynhowardjohnson.com
These poems were written from Suzan L. Wiener's heart and each one was a tribute to her wonderful husband Howard, but they are universal and can be applied to anyone who has fallen in love and wants to give this book as a special gift to their special someone. They will fall in love all over again with you.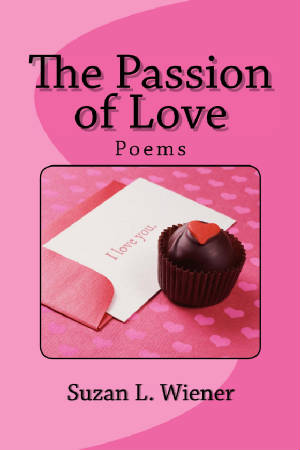 These poems were written from Suzan L. Wiener's heart and each one was a tribute to her wonderful husband Howard, who has passed away in January 2015. He will always be remembered and loved for his sweetness and generosity and the special way he treated Suzan. These poems are universal and can be applied to anyone who has fallen in love and wants to give this book as a special gift to their special someone. They will fall in love all over again with you.