Essays are written by Dawn Colclasure.
Essays on writing can be found at the "Essays" link in the navigation bar.
Essay "Feeling the Music" published in the Spring, 2007 issue of Breath & Shadow.
Essay, "How far to go to hear my child?" published in the October, 2005 issue of SIGNews.
AVAILABLE FROM SAGA BOOKS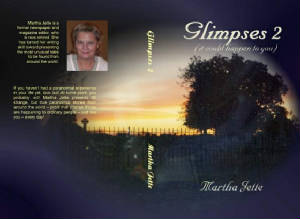 Read about my TRUE dream experiences in this book!
The final chapter of my dream experiences highlighted in Martha's book has now been published online. Read the full story here:
The Farewell: Helping Jonathan Cross Over
Essay "Standing at a Crossroads"
Essay, "Artist in Disguise," published in the June, 2005 issue of HOMEspirations Magazine.
Essay, "Deaf parenting: The silent bond" Published in the Spring, 2005 issue of the DPPi Journal.
Essay, "Celebrating Rejection," is published in the June issue of The Writer Within with both names.
Essay, "Surviving Outings With Baby," published in the October, 2003 Mommy Tales newsletter.